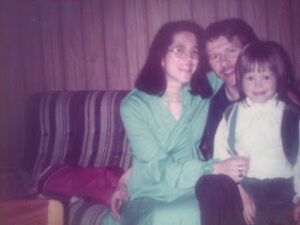 When I was little, we used to go 'dahn the Welly" (Wellington Social Club) and I recall a great deal of effort going into what people wore – here you see I'm sporting an excellent green velvet ensemble with a white pussybow blouse. And yes, that is wallpaper made to look like wood panelling (got to love a lounge that looks like a sauna!).
Fast forward to me and my children and we absolutely *do not* get dressed up to go out unless it's a formal occasion. There's part of me that is wistful for the days of really making an effort but given we have dogs, live in the sticks and go on holidays to places where basically it's all about being on a British beach there's no call for heels or handbags.
In today's episode of the podcast, I share what happened when we went to a caravan park with an entertainment complex and my admiration for the mums that can push a buggy uphill in five inch heels.
There's also reflections on how your children will choose the memories they wish to treasure and why if you're trying to dance to '90s Ragga when you're in your late 40s, it's best to do it on your own 😀
You can listen in here – thanks to everyone who's tuned in so far!